Training camp for the real world.
Practical, in-demand skills
Online short courses and technical boot camps from top-tier universities
Certificates in business, real estate, technology, coding, cybersecurity, digital marketing and more
Personalized support – from program selection to student success and career coaching
Qualifies for active player tuition reimbursement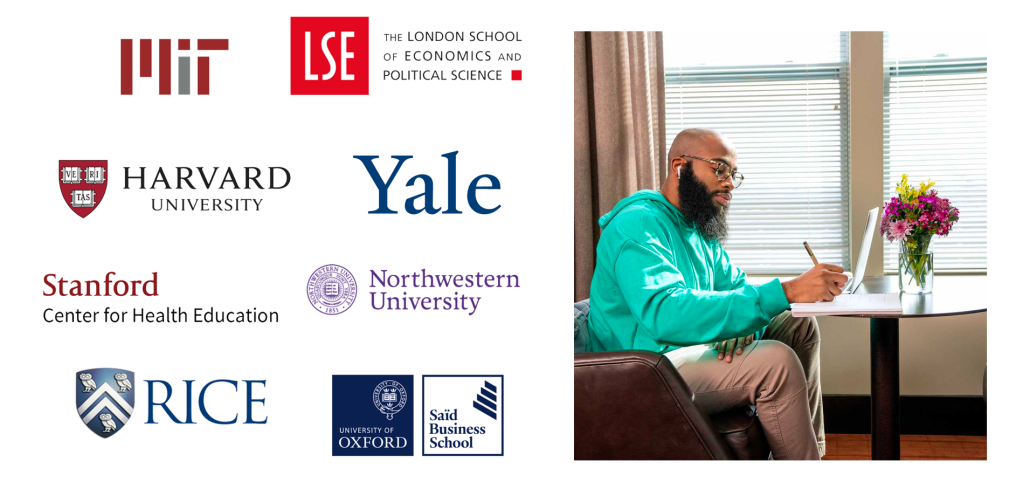 As an NFLPA member, we understand that you need to be smart about your futures at each stage of your playing career. For over a decade, 2U has been partnering with top-tier, non-profit universities to create up-close and personal learning experiences to deliver students the best possible education for the brightest possible future. 
You've made your name on the back of a jersey, now develop new skills to earn it on a certificate.
What is a Short Course?
Perfect for players looking to upskill in the off-season. In-demand, high touch, and practical skill building experience with focuses on entrepreneurship, real estate, marketing, finance, healthcare, and more.
What you put in…
Open enrollment (no pre-reqs required)
~2-3 months per course
~6-12 hours per week
Watch dynamic, interactive content
Complete weekly assessments
What you get out.
24/7 academics + tech support
Active discussion forms with classmates + TAs
Expert guidance & feedback from course experts
University-issued certificate of completion
What is a Boot Camp?
Built for members ready to reskill. Hands-on, interactive, online workshops designed to deliver in technical in-demand skills around coding, cybersecurity, data visual, project management and more.
What you put in…
Open enrollment w/ exam (to gauge existing skills)
~12-24 weeks, full or part-time options available
Attend live classes with lectures and class discussion
Virtual lab work on individual and group exercises
What you get out.
24/7 support for academics + tech support
A resume-ready portfolio of personal work
Personalized career coaching + services
University-issued certificate of completion
I want to learn about…
Technical Boot Camps
expand_more
Full Stack Web Development
Web Development course combines front-end, back-end, and big picture training for students looking to enter into the competitive field of coding.
Data Analytics and Visualization
The Data Analytics and Visualization course provides learners with the knowledge, skills, and expertise to turn data into insights, and into actionable recommendations to improve processes and drive company growth.
This boot camp takes a multidisciplinary approach to attaining proficiency in design thinking, product management, user interface design, and web design.
The Cybersecurity and Networking Boot Camp equips students with the fundamentals of IT networking and modern information security. Throughout the programs, students gain experience with a host of tools such as Wireshark, Kali Linux, Metasploit, Burp Suite, and more.
Technical Project Management
The Technical Project Management boot camp prepares students to effectively lead technology projects across a variety of industries and develops in demand technical, leadership, and business management skills.
The Product Management boot camp teaches students in-demand product management skills like market analysis, value proposition creation, roadmap development, rapid prototyping, SQL, and data visualization.
The Digital Marketing Boot Camp takes a multidisciplinary approach to attaining proficiency in marketing strategy, campaign development, digital advertising, and modern tools in site analytics and reporting.
The FinTech Boot Camp takes a multidisciplinary approach to attaining proficiencies in fundamental programming, data analysis, and modern tools in cryptocurrency and blockchain. Throughout the course, students will gain experience with a host of popular tools and methods such as Python programming, financial libraries, machine learning algorithms, Solidity smart contracts, Ethereum, and blockchain.
Business & Leadership
expand_more
This course balances the knowledge and theory which will enable you to think differently and make better decisions with the practical skills and techniques required to achieve a greater impact within your organisation. You'll also have the opportunity to expand your professional network by collaborating and engaging with an international cohort of like-minded business leaders on the course.
MIT Sloan Leadership in an Exponentially Changing World
This short course provides a step-by step guide to the 4-CAPS+ Leadership Framework, developed by Faculty Director Deborah Ancona and her colleagues at MIT. The framework provides key insights into the skills required for effective leadership.
Oxford Executive Leadership Program
This course teaches techniques to lead high-performance teams to add value and purpose to your organisation, through effective leadership strategies and insight into the process of effective decision-making.
Yale SOM Accelerated Management Program
Develop core management skills and knowledge needed to lead with confidence and tackle complex business challenges.
Oxford Digital Marketing: Disruptive Strategy Program
Learn to harness disruptive forces in the marketing sphere with insights, practical toolkits, and strategic frameworks.
Marketing & Communications
expand_more
University of Cambridge Communicating for Influence and Impact
Examine the context of the individual, team, organisation, and society as a whole, enabling you to identify where effective communications can be applied to achieve high impact and influence change. Guided by CISL experts, learn how to influence change within and beyond your network, and develop your personal leadership skills.
Northwestern University Leading Diversity, Equity & Inclusion
Gain practical tools to demonstrate the value of diversity, equity, and inclusion in your organization and lead transformative change.
Syracuse Finance For Non-Financial Managers
This online short course aims to equip you with the tools to understand and interpret financial information and use practical accounting principles effectively. Guided by expert faculty from the Martin J. Whitman School of Management at Syracuse University, you'll gain insight into how the financials of a company work and what drives financial decisions.
Oxford Entrepreneurship: Venture Finance Program
provides you with a comprehensive understanding of venture finance, from both entrepreneur and investor perspectives. Over the course of eight weeks, you'll explore the venture financing process from initial fundraising to the final exit strategy.
Data & Technology
expand_more
Northwestern University Digital Operations Management
Leverage the latest digital technologies to optimize the quality and speed of your operations.
MIT Sloan Digital Business Strategy: Harnessing our Digital Future
Integrate transformative technologies into your business strategy, and leverage their benefits to drive your organization forward.
Harvard VPAL Cybersecurity: Managing Risk in the Information Age
This course equips students with a comprehensive understanding of how to identify and manage operational risk, litigation risk and reputational risk. The course will help students assess and mitigate specific vulnerabilities within an organization's networks, systems, and data in order to provide the knowledge and skills to protect the integrity, security, and confidentiality of their digital assets.
Learn to critically assess the future of FinTech by examining what actors will drive future innovation and which technologies will have a lasting impact on the financial industry
MIT Commercial Real Estate Analysis and Investment
To generate a holistic overview of real estate analysis and investment, this program will consider real estate from both the micro and macro perspectives.
MIT Entrepreneurship in Architecture, Planning and Real Estate
Allows you to create your own solution to an urban problem, and explore the process of launching a new venture through this lens.
LSE Real Estate Economics and Finance
Valuable to professionals from a range of backgrounds who wish to better understand the real estate market – as an investor, developer, or real estate practitioner.
Rice Business Real Estate Development & Investment
Aims to equip professionals with the skills required to analyze commercially viable real estate for development, while providing them with an introduction to the concepts and techniques used to analyze commercial real estate assets, and the instruments commonly used to finance them.
Health & Wellness
expand_more
GWU Healthcare Management
Develop leadership skills to manage change and disruption in the healthcare industry.
Harvard CRISPR: Gene-Editing Applications
Understand the potential of CRISPR technology in the biofuel, agriculture, and healthcare industries.
Harvard VPAL Global Health Delivery
Understand the challenges facing healthcare delivery, and design a solution for real-world implementation.
Stanford Nutrition Science
Understand the foundational science underlying nutrition and how it's linked to health, and preventing disease.
Yale SOM Healthcare Management
Learn how applying fundamental business and management principles to healthcare administration can improve access, quality, and safety.
You've still got questions? We've got you.
NFLPA members can use their educational benefits and receive a discounted rate. Contact your 2U Success Coach to learn more.
Are the courses listed above the only courses available?
No, the courses listed above are just a sample – it's a list of our most popular topics and courses with the NFLPA member in mind. Contact your 2U Success Coach to learn more and find the right course for you.
Please complete the form above OR reach out via email (NFLPA@2u.com) or call +1-855-NFL-0395 (+1 855-635-0395)
Where do I get the certificate of completion from?
After successfully completing your course, an official certificate from the accredited university will be mailed to an address you provide.